Race
Round 2
San Diego SX
San Diego
Chase Sexton fifth after a dramatic night of racing in premier class Colt Nichols finishes 12th in 450SX division Following an unexpected week off, AMA Supercross returned to action at a new venue—San Diego's Snapdragon Stadium—where Team Honda HRC's Jett Lawrence was once again flawless in the 250SX West class,… read more.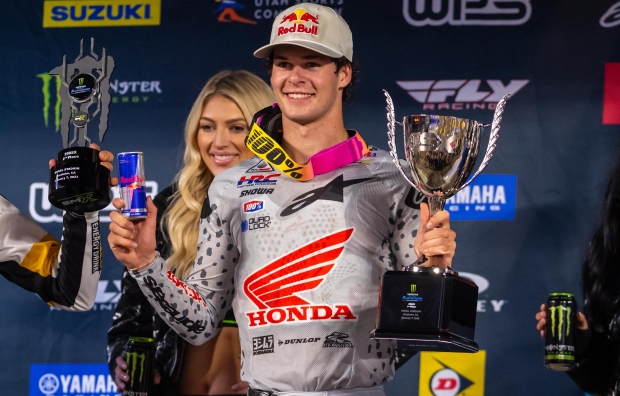 ---
Race
Round 1
Anaheim 1 SX
Anaheim
Chase Sexton finishes a steady third in premier division Colt Nichols places sixth in promising 450 class debut On a treacherous track in a packed Angel Stadium of Anaheim, Team Honda HRC enjoyed a strong start to the 2023 AMA Supercross season. For Jett Lawrence, a convincing 250 victory was… read more.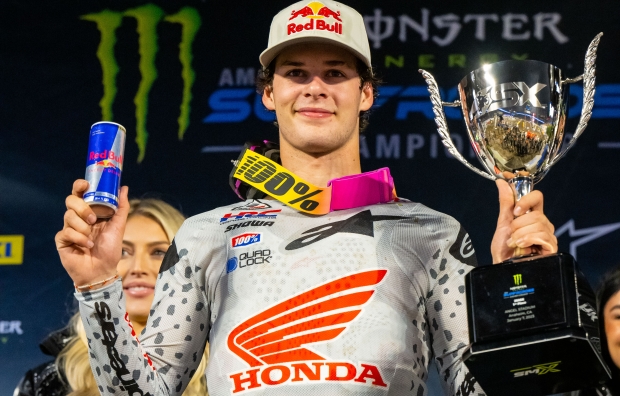 ---
Chase Sexton helps Team USA to win with 2-3 moto scores Jett Lawrence wins Open class to help Team Australia secure a podium finish Team Honda HRC riders Chase Sexton, Jett Lawrence and Hunter Lawrence all enjoyed solid showings during the Motocross of Nations at Michigan's RedBud MX, helping their… read more.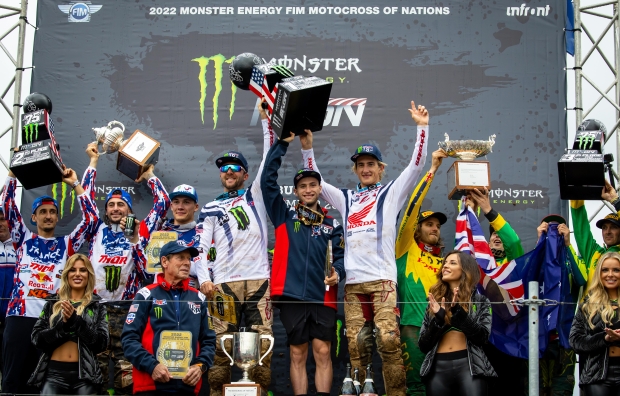 ---
Race
Round 12
Fox Raceway II National
Pala
Sexton finishes second overall in 450 class, second in championship Honda takes Manufacturers' title and other season-end awards Team Honda HRC finished an incredible 2022 AMA Pro Motocross season on a sweltering day at Southern California's Fox Raceway, where Jett Lawrence earned the 250 overall win and successfully defended his… read more.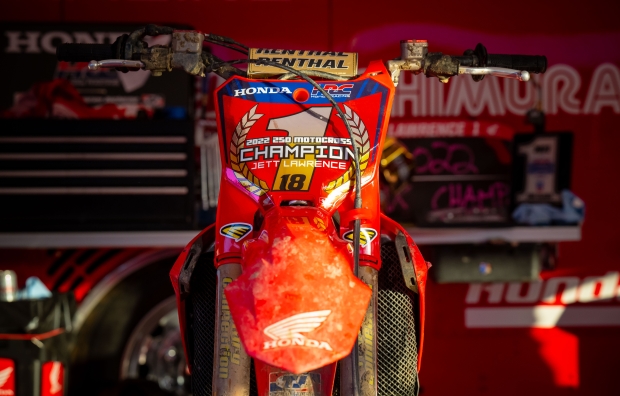 ---
Race
Round 11
Ironman National
Crawfordsville
Sexton posts 2-1 tally to stay within one point in 450 title chase Jett Lawrence closes in on 250 crown, with 1-3 moto scores For the fourth time this season, Team Honda HRC topped both classes in an AMA Pro Motocross round, with Chase Sexton and Jett Lawrence taking the… read more.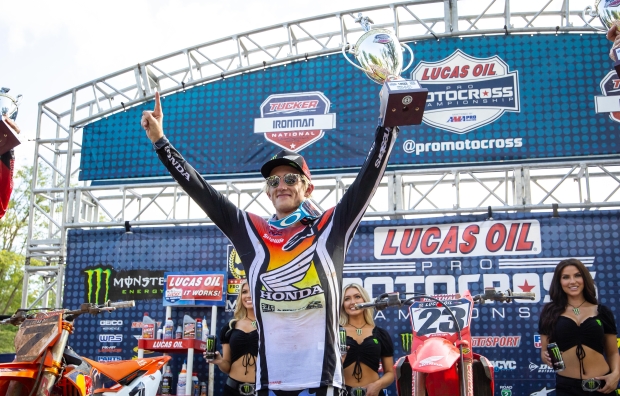 ---
Race
Round 10
Budds Creek National
Budds Creek
Sexton recovers from subpar first 450 moto to win second outing Jett Lawrence 37 points up in 250 class with two rounds remaining Ken Roczen made a welcome return to the 450 overall podium at Maryland's Budds Creek round of the AMA Pro Motocross series, stringing together a pair of… read more.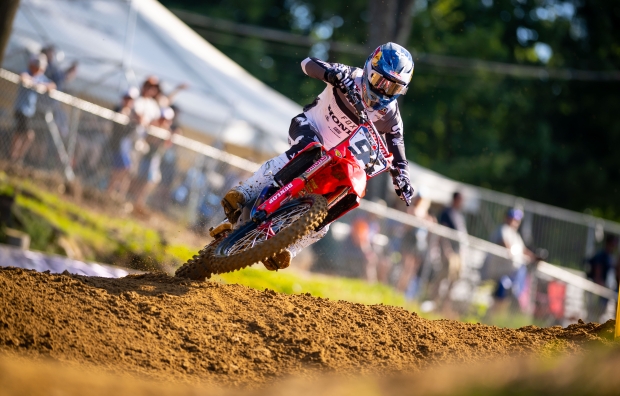 ---
Race
Round 9
Unadilla National
New Berlin
Sexton retakes 450 points lead with dominant 1-1 performance Hunter and Jett Lawrence third and fourth overall in 250 class Not merely picking up where he had left off before the final break in the AMA Pro Motocross season, Team Honda HRC's Chase Sexton raised his performance to a new… read more.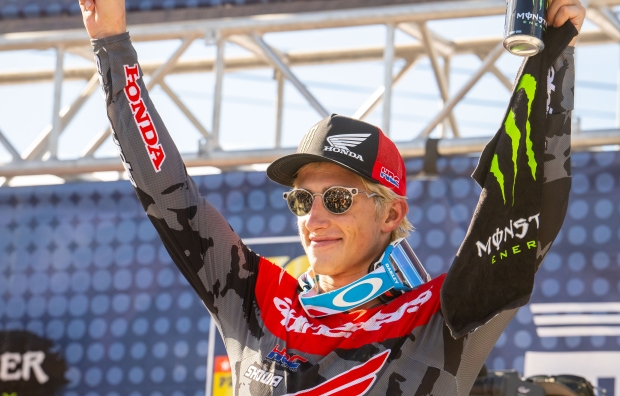 ---
Race
Round 8
Washougal National
Washougal
Chase Sexton wins 450 class, Jett Lawrence tops 250s Third win-sweep of the season for the team so far For the third time this season, Team Honda HRC topped both classes at an AMA Pro Motocross National, this time in front of a large and enthusiastic Pacific Northwest crowd at… read more.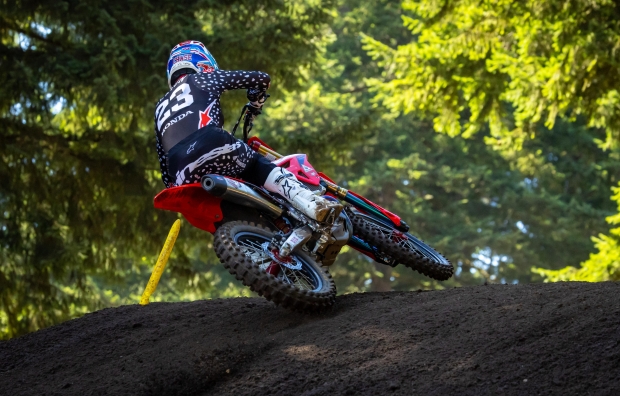 ---
Race
Round 7
Spring Creek (Millville) National
Millville
Third sweep of the year for the defending champ Second overall in 450 class for Chase Sexton Team Honda HRC's Jett Lawrence continued his dominance of the 250 class this weekend in AMA Pro Motocross, notching his second 1-1 performance in a row, this time at Millville, Minnesota's Spring Creek… read more.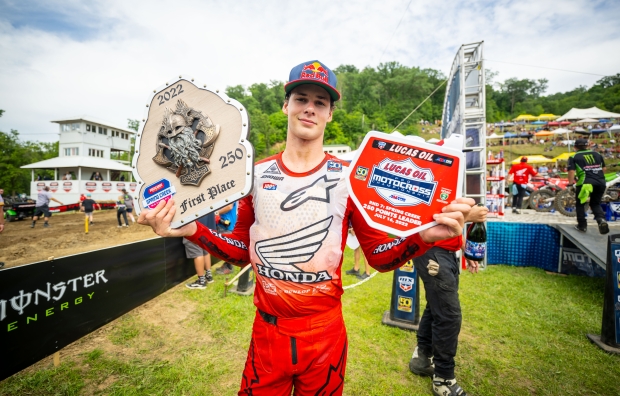 ---
Race
Round 6
Southwick National
Southwick
Jett retakes points lead with 1-1 moto scores Second overall for Chase Sexton in 450 class One week after his perfect overall-win tally came to an end, CRF250R-mounted Jett Lawrence posted a flawless 1-1 victory at the Southwick, Massachusetts, round of the AMA Pro Motocross series, resuming the lead in… read more.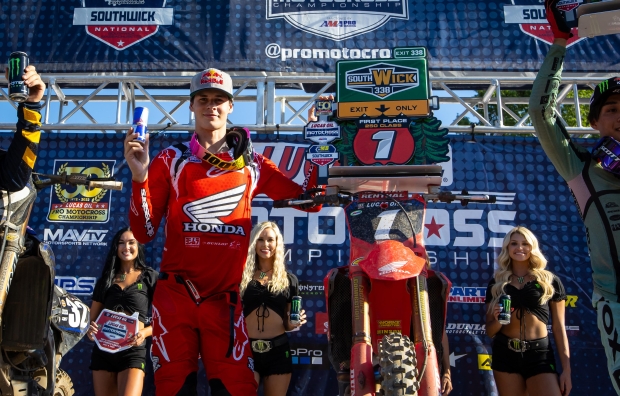 ---