Filtering by
AMA Supercross 2023
Race
Round 17
Salt Lake City SX
Salt Lake
Illinois native ends indoor season with his sixth win of the year Jett Lawrence tops 250SX East-West Showdown, Hunter Lawrence sixth Colt Nichols earns AMA 450SX Rookie of the Year Award Honda earns third consecutive Manufacturers Championship Team Honda HRC put an exclamation mark on the 2023 AMA Supercross season… read more.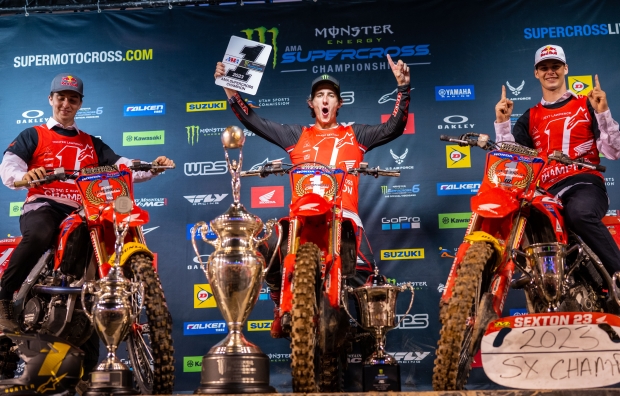 ---
Chase Sexton takes Honda's first premier-class AMA Supercross title in 20 years 450SX crown follows 250SX East and West titles by Hunter and Jett Lawrence SALT LAKE CITY, Utah (May 13, 2023) — With a main-event win Saturday evening aboard his CRF450RWE in Salt Lake City's Rice-Eccles Stadium, Chase Sexton… read more.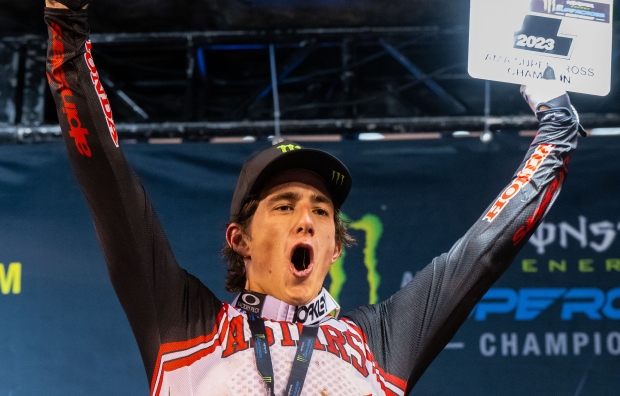 ---
Race
Round 16
Denver SX
Denver
In Denver, Jett Lawrence takes 250SX West title–his fourth AMA crown Chase Sexton tops premier division, takes over points lead Colt Nichols okay after hard crash while running near the front On a dramatic evening in downtown Denver, Team Honda HRC continued its dream 2023 AMA Supercross season, collecting the… read more.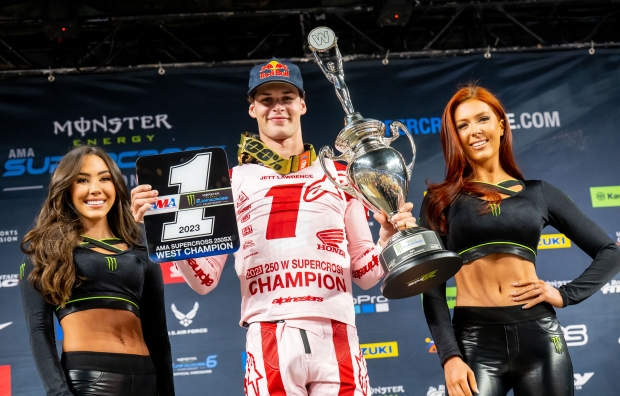 ---
Title comes one week after brother Hunter Lawrence won 250SX East crown Fourth AMA 250 title for Jett Lawrence, who moves to 450 class for AMA Pro MX DENVER, Colorado (May 6, 2023) — Just one week after Honda earned its 19th AMA Supercross support-class championship at the hands of… read more.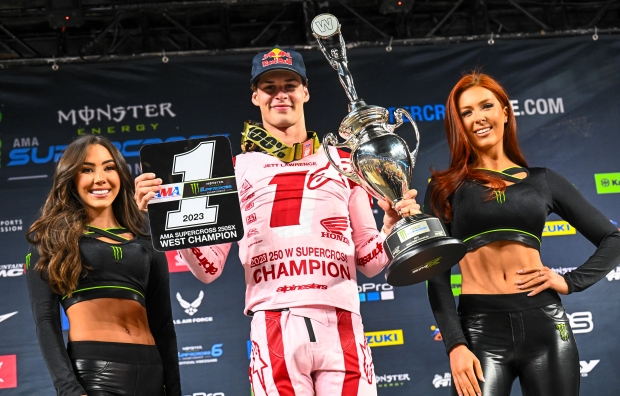 ---
Race
Round 15
Nashville SX
Nashville
Hunter Lawrence clinches 250SX East title with seventh win in nine rounds Chase Sexton wins premier class, takes over second in title chase Colt Nichols posts career-best fourth-place result in 450SX  Team Honda HRC collected its third win-sweep of the season at the Nashville Supercross, and this one was even… read more.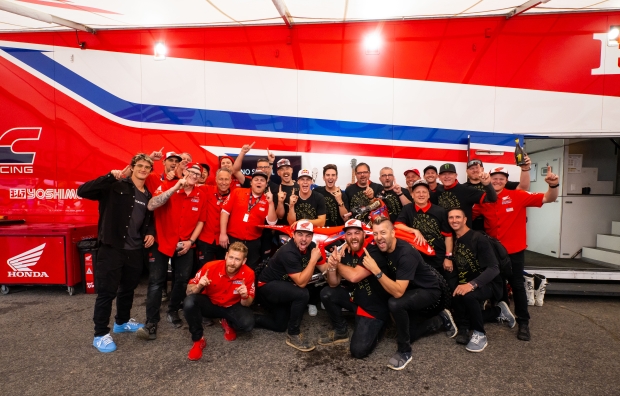 ---
News
Round 15
Nashville SX
Nashville
Debut AMA title for the 23-year-old Australian Lawrence has won seven of the nine rounds held so far NASHVILLE, Tennessee (April 29, 2023) — During today's AMA Supercross round at Nissan Stadium, Team Honda HRC rider Hunter Lawrence clinched the 250SX East Region Championship with yet another main-event victory. His… read more.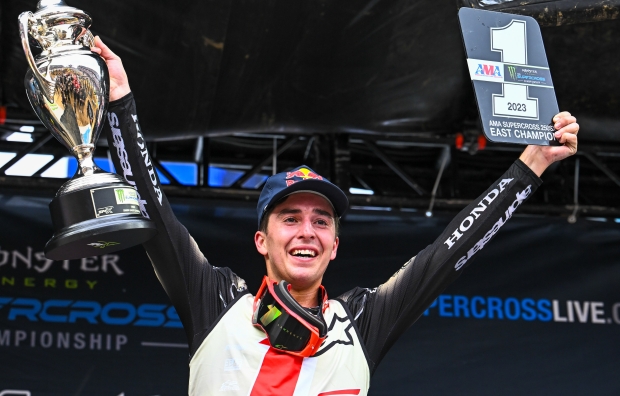 ---
Race
Round 14
East Rutherford SX
East Rutherford
Fire Power Honda's Max Anstie takes dramatic debut win in 250SX race Jett and Hunter Lawrence stretch points leads with 250SX podium finishes Chase Sexton and Colt Nichols take fourth and 16th in 450SX main event When a rain-and-lightning storm hit the East Rutherford Supercross just before the 250SX East-West… read more.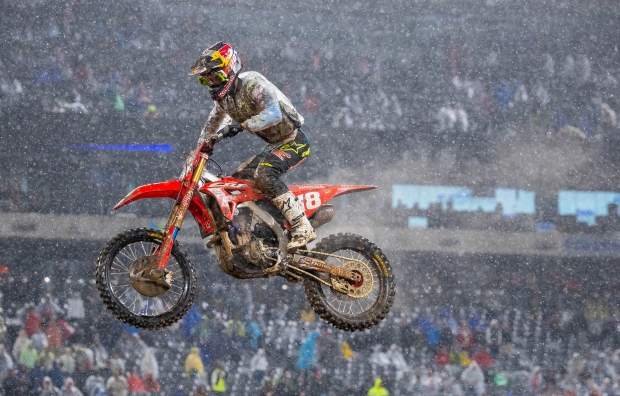 ---
Race
Round 13
Atlanta SX
Atlanta
Chase Sexton dominates premier class for his third win of the season Hunter Lawrence continues his rule in 250SX East, with win number six Colt Nichols shrugs off illness to notch a ninth-place finish in 450SX Team Honda HRC earned its second win-sweep of the 2023 AMA Supercross season this… read more.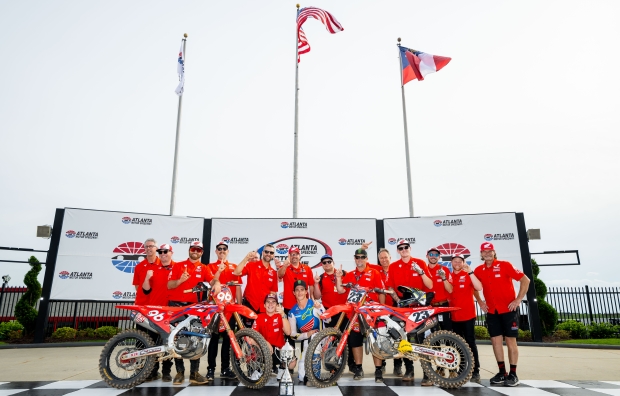 ---
Race
Round 12
Glendale SX
Glendale
Second overall in premier class gives Chase Sexton Triple Crown title Colt Nichols returns from injury and finishes eighth in 450SX Headed into Glendale—round 12 in the 2023 AMA Supercross Championship—Jett Lawrence had already amassed an impressive array of accomplishments, but an overall victory at a Triple Crown race had… read more.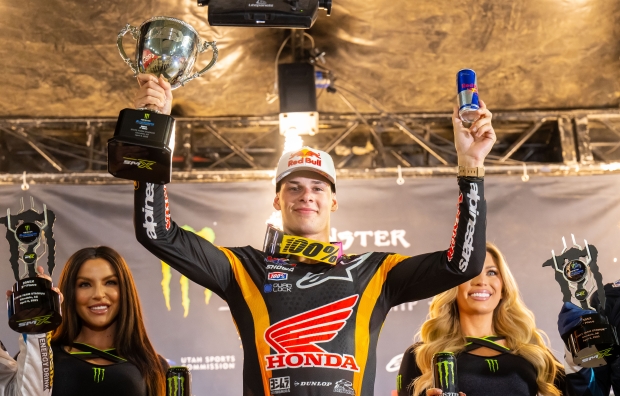 ---
Race
Round 11
Seattle SX
Seattle
Lawrence stretches 250SX West Region points lead to 23 Chase Sexton finishes fifth in 450SX after leading early The Lawrence brothers exhibition that has been the 2023 AMA Supercross 250SX season continued this weekend in Seattle, where the West Region riders resumed action after a one-month pause, giving Jett Lawrence… read more.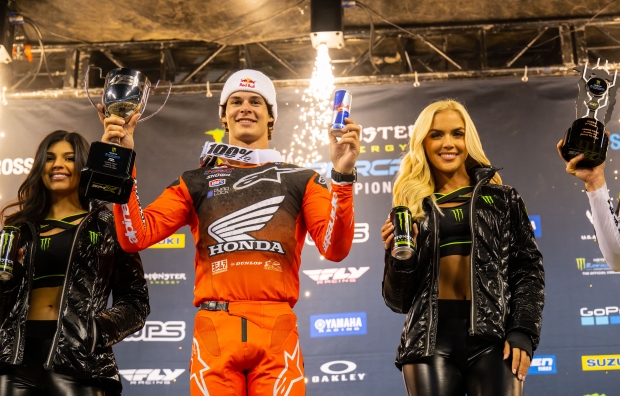 ---