Filtering by
AMA Supercross 2022
Race
Round 17
Salt Lake City SX
Salt Lake
Chance Hymas wins 250SX Futures race Honda takes Manufacturers' Championship During a busy AMA Supercross series finale in Salt Lake City, CRF450R-mounted Chase Sexton and CRF250R rider Hunter Lawrence both ended the series with strong performances, the Team Honda HRC riders taking second place in their respective main events. Sexton… read more.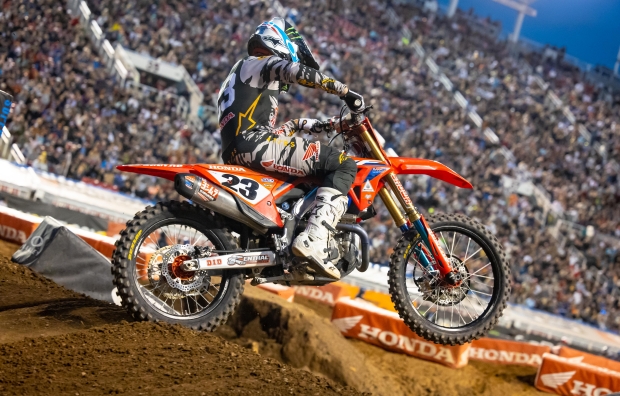 ---
Race
Round 16
Denver SX
Denver
Australian tops qualifying, heat and main event Sexton recovers from fall for fourth in 450SX Team Honda HRC's Hunter Lawrence was flawless at the penultimate round of the 2022 AMA Supercross season in the Mile High City, topping both sessions of 250SX West qualifying and leading start-to-finish in his heat… read more.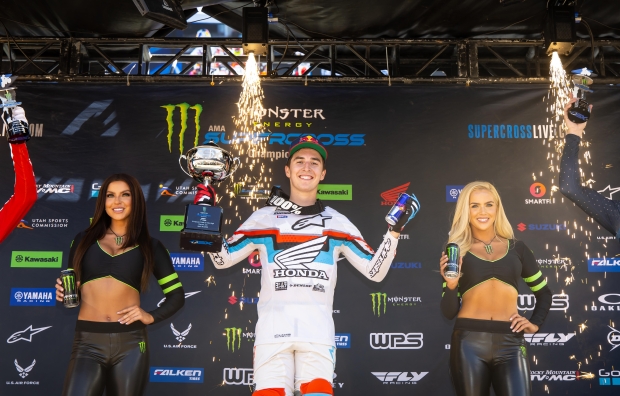 ---
Race
Round 15
Foxborough SX
Foxborough
Sexton finishes a solid second in 450SX Chance Hymas wins Futures class again In AMA Supercross's return to Foxborough, Massachusetts, following a four-year absence, Team Honda HRC scored a pair of second-place finishes, one of which was enough for Jett Lawrence to clinch the 250SX East Region Championship one race… read more.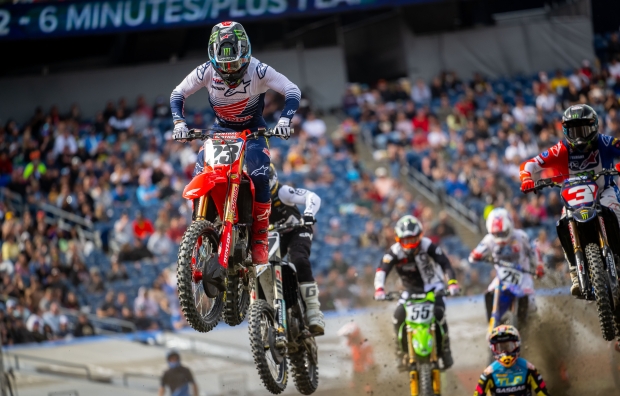 ---
Race
Round 14
Atlanta SX
Atlanta
Sexton recovers from crash for impressive podium in 450SX Chance Hymas dominates Supercross Futures class In the 2022 AMA Supercross series' first of two 250SX East-West Showdowns, the Lawrence brothers put in an impressive and emotional performance, with Hunter topping the main event and Jett recovering from an early crash… read more.
---
Race
Round 13
St. Louis SX
St. Louis
Sexton wins one race and rides smart in 450SX division Lawrence extends points lead with two 250SX East wins Between Chase Sexton and Jett Lawrence, Team Honda HRC won the first three races at the St. Louis Triple Crown AMA Supercross, and although overall wins weren't in the cards, both… read more.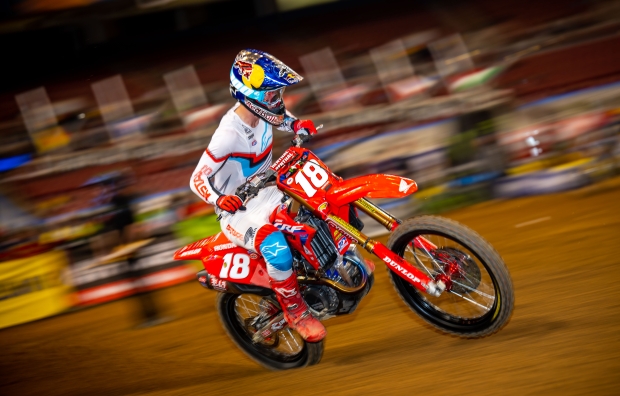 ---
Race
Round 12
Seattle SX
Seattle
Australian moves to second place in points chase Sexton misses night program after qualifying crash Following a five-week pause in 250SX West Region racing, Team Honda HRC's Hunter Lawrence put together a solid victory during AMA Supercross's return to Seattle. It was the Australian's first time racing in the Emerald… read more.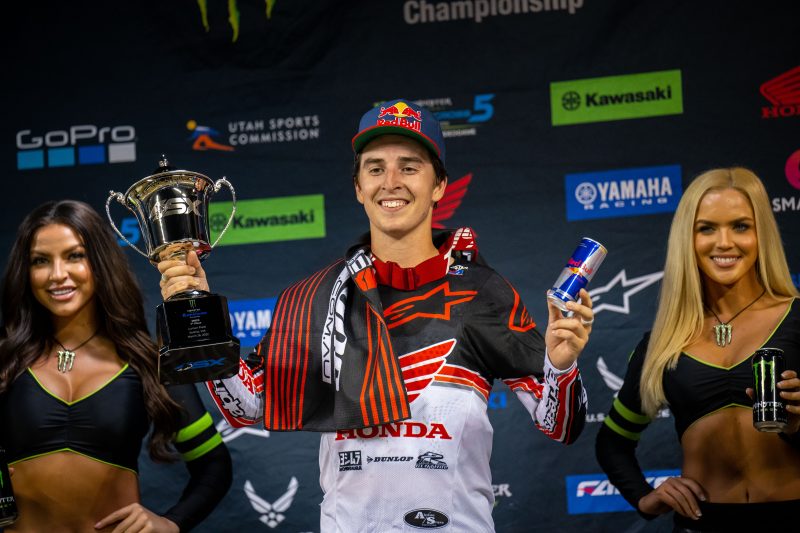 ---
Race
Round 11
Indianapolis SX
Indianapolis
Mature race performance extends Australian's points lead Sexton turns in steady 450SX ride for fourth place Jett Lawrence continued his rule over the 2022 AMA Supercross 250SX East Region during the Indianapolis round, where he put together his third win in a row and his fourth in five events. This… read more.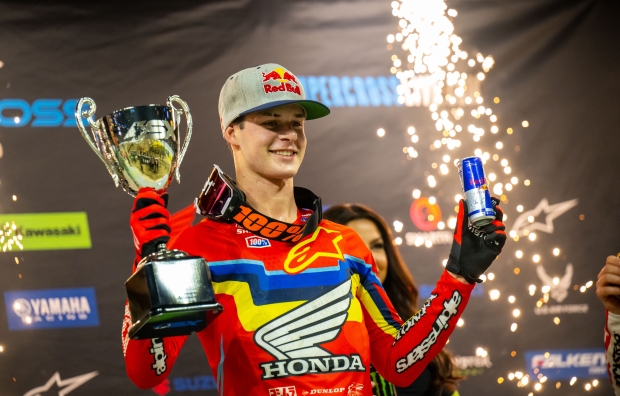 ---
Race
Round 10
Detroit SX
Detroit
Perfect showing sees Jett Lawrence top practice, heat and main Hard crash in chaotic 450SX main ends Sexton's night early The Detroit round of the 2022 AMA Supercross series saw Jett Lawrence continue his dominance of the 250SX East Region, riding his CRF250R to his third win in four events,… read more.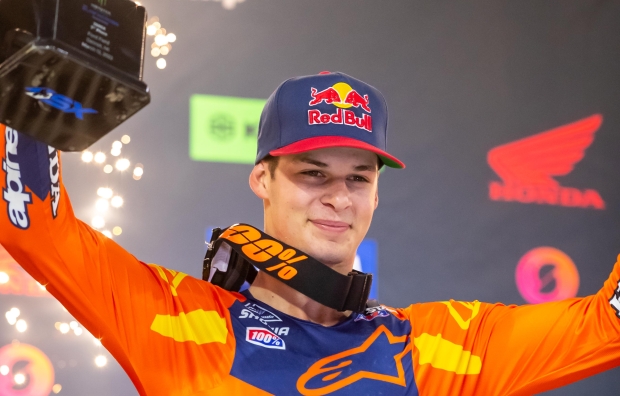 ---
Race
Round 9
Daytona SX
Daytona Beach
Podium finish in 450SX for Sexton Roczen takes seventh in 450 main The ninth round of the 2022 AMA Supercross series was also the 52nd Daytona Supercross at Daytona International Speedway, where Team Honda HRC's Jett Lawrence – in his first racing appearance at the World Center of Racing –… read more.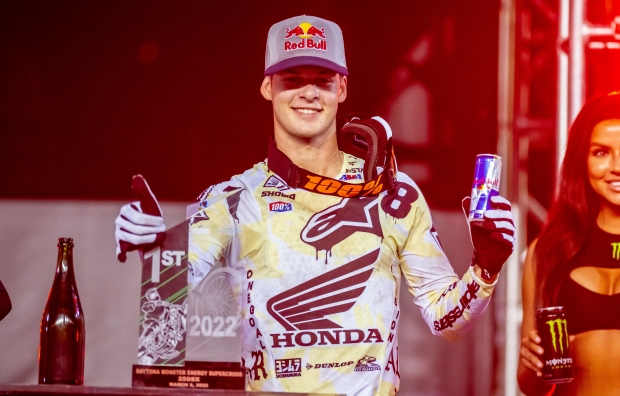 ---
Race
Round 8
Arlington SX
Arlington
Fourth overall in 450SX for Sexton, with podium finish in Race 2 Crashes limit Roczen to 13th in 450SX class  The second AMA Supercross Triple Crown event of the season saw Team Honda HRC rider Jett Lawrence finish third overall in Arlington, Texas, helped by a first-place result in the… read more.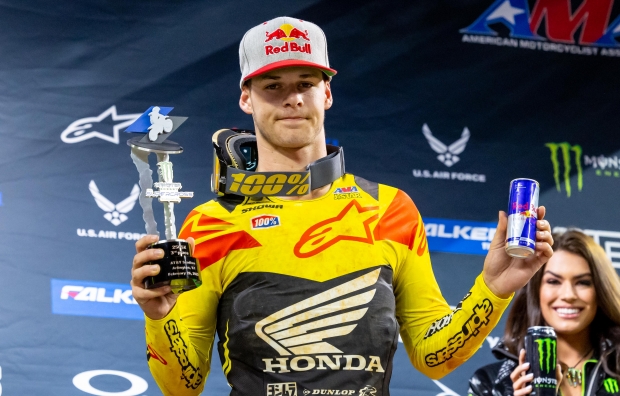 ---