Filtering by
AMA Pro Motocross 2023
Race
Round 11
Ironman National
Crawfordsville
Hunter Lawrence wraps up 250 National Championship at Ironman National Newly crowned 450 champ Jett Lawrence completes perfect season Second overall for Chase Sexton—fourth in points despite missing three rounds  At the Ironman National in Crawfordsville, Indiana, another two chapters were added to Team Honda HRC's incredible 2023 season. Hunter… read more.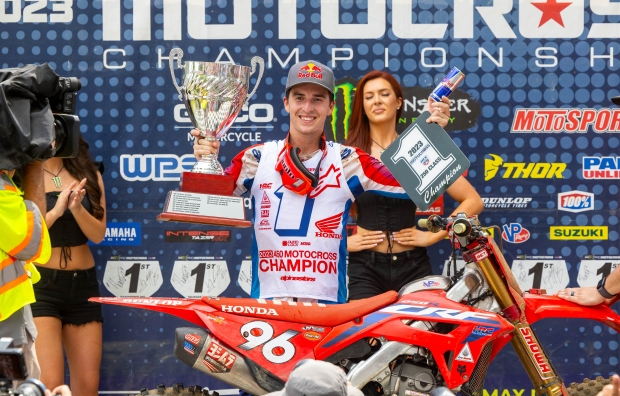 ---
News
Round 11
Ironman National
Crawfordsville
The Red Rider earns his first AMA Pro Motocross crown at Ironman National Honda is the first manufacturer to sweep three AMA Supercross and two AMA Pro Motocross titles CRAWFORDSVILLE, Indiana (August 26, 2023) — During today's AMA Pro Motocross series finale at Ironman Raceway, Hunter Lawrence wrapped up his… read more.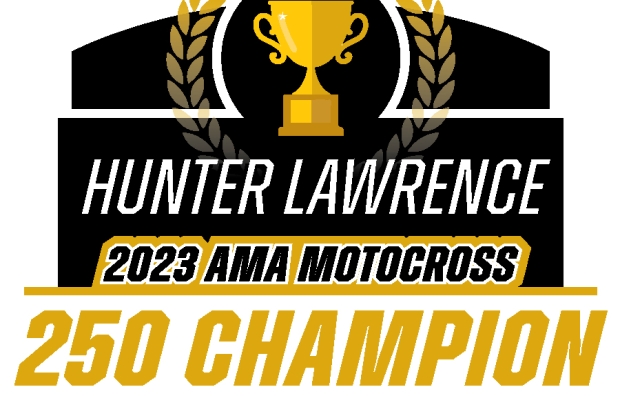 ---
Race
Round 10
Budds Creek National
Budds Creek
Newly crowned champion Jett Lawrence extends perfect record in 450 class Second-moto win lands Hunter Lawrence 250 overall victory Chase Sexton rebounds from tough first 450 moto to take fourth overall For the seventh time this AMA Pro Motocross season, Team Honda HRC swept the overall wins in both classes,… read more.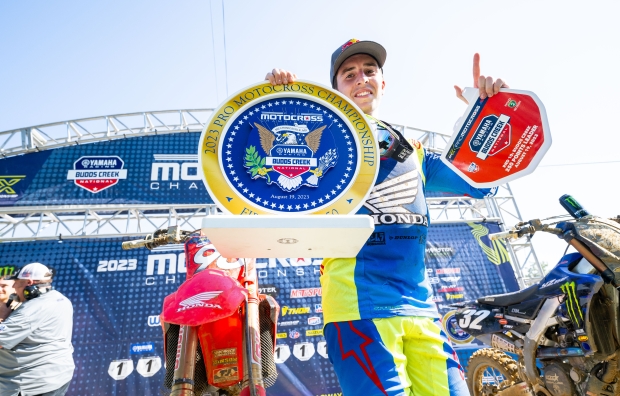 ---
News
Round 9
Unadilla National
New Berlin
Red Rider clinches championship two rounds early Championship follows Honda's sweep of 2023 AMA Supercross titles NEW BERLIN, New York (August 12, 2023) — Continuing an incredible year for Team Honda HRC, Jett Lawrence posted yet another a 1-1 moto score at legendary Unadilla MX today aboard his CRF450RWE, a… read more.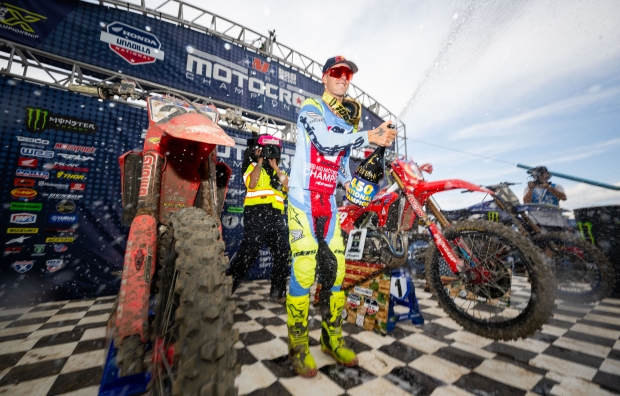 ---
Jett Lawrence takes championship and continues perfect season Strong ride leads to second overall for Chase Sexton Hunter Lawrence takes 250 overall win, extends points lead Continuing what has been a historic start to his 450 career, Jett Lawrence clinched the AMA Pro Motocross 450 Championship two rounds early with… read more.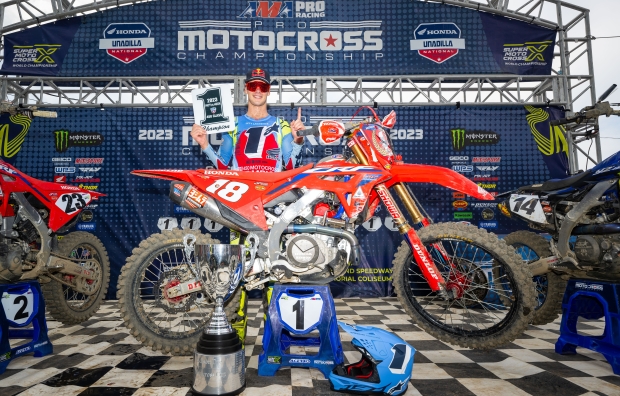 ---
Race
Round 8
Washougal National
Washougal
Jett Lawrence maintains perfect season, with 16 moto wins Chase Sexton a strong second overall in 450 class Podium performance keeps Hunter Lawrence in 250 points lead The Summer of Jett Lawrence continued through round eight of the AMA Pro Motocross season at the Washougal National, as the 450-class rookie… read more.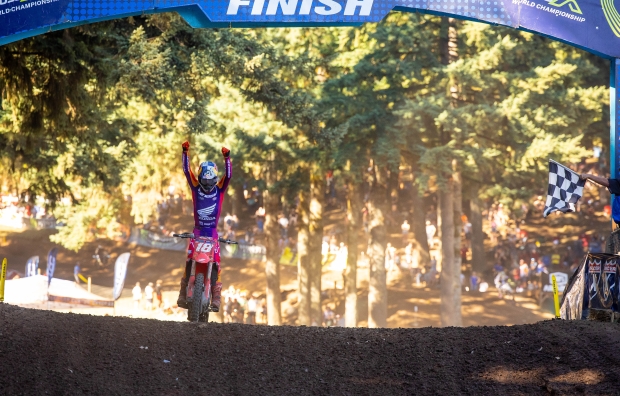 ---
Jett Lawrence extends perfect season, with 14 consecutive moto wins Chase Sexton shows great speed, going 2-2 for second overall Hunter Lawrence collects 250 overall win, retakes points lead In what has become the norm this summer, Team Honda HRC's Jett Lawrence ruled the 450 class at the Spring Creek… read more.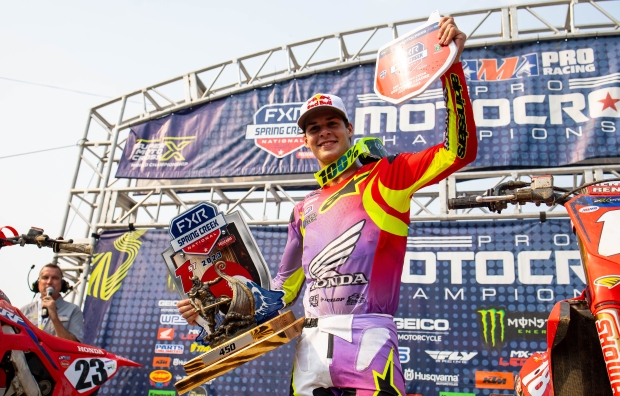 ---
Race
Round 6
Southwick National
Southwick
450 rookie extends perfect record to 12 consecutive moto wins Chase Sexton notches 2-2 450 finishes, advances in standings Misfortune plagues Hunter Lawrence in 250 class As the 2023 AMA Pro Motocross series cleared its midway point in the grueling heat and challenging sand of Southwick, Massachusetts, Jett Lawrence's incredible… read more.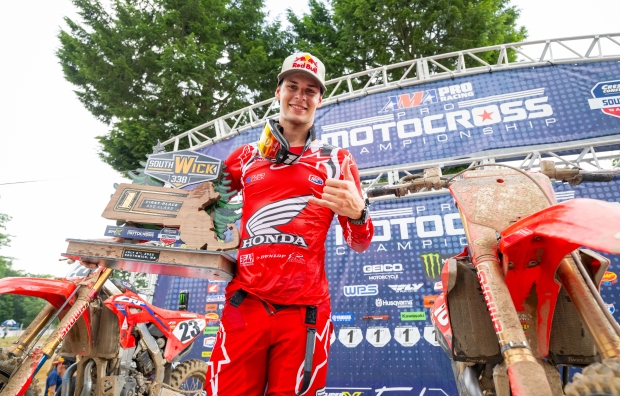 ---
Race
Round 5
RedBud National
Buchanan
AMA 450 rookie leads every lap in both motos Chase Sexton a solid third overall in return from injury Hunter Lawrence wins first 250 moto before crashing out of moto 2 Jett Lawrence's incredible AMA Pro Motocross 450 rookie season continued at the Independence Day Weekend RedBud National, where the… read more.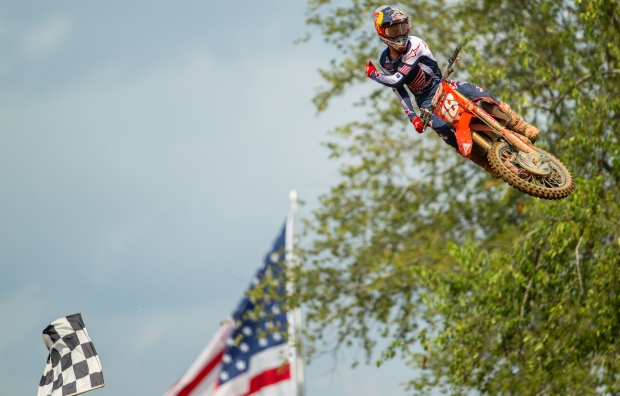 ---
Chance Hymas incurred torn ACL while training last week Idaho native expected to miss remainder of 2023 season TORRANCE, Calif. (June 27, 2023) — Team Honda HRC rider Chance Hymas underwent successful surgery today to repair a left-knee injury that he suffered while training in Florida on June 20. A… read more.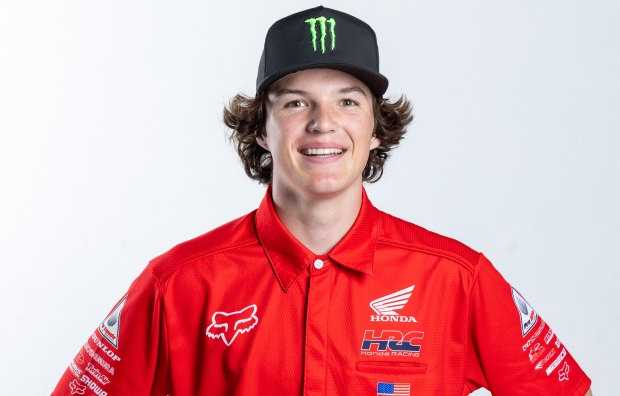 ---