Born and raised in a small German town, Ken Roczen is known for his outgoing, fun-loving personality, as well as his drive and commitment to being successful in racing. Widely regarded as one of the fastest racers in the world, his popularity extends well beyond the realm of traditional motorsports and into the mainstream, thanks in part to his huge social media following.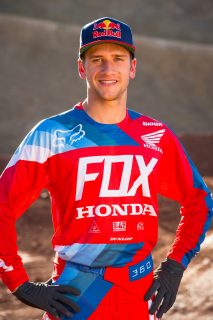 Background
Roczen first burst onto the European motocross scene in 2009, winning back-to-back Masters Championships in Germany before eventually becoming the youngest rider ever to score the MX2 World Championship, in 2011. The next year, he was a member of the Motocross of Nations-winning Team Germany.
Following that success, the young phenomenon moved to the U.S. to race full-time. After finding his footing in the States, Roczen earned the 2013 AMA Supercross 250SX West title and finished second in the AMA Motocross 250MX Championship.
For 2014, Roczen moved up to the premier class, where he quickly made his presence felt and solidified his status among the top 450SX riders by scoring his first win at the opening round in Anaheim. He was victorious again at Atlanta's Georgia Dome before wrapping up the season in third overall and earning AMA Supercross Rookie of the Year honors. Roczen followed that up with a stellar showing throughout the AMA Pro Motocross season, winning five rounds and landing on the podium four additional times en route to his first 450MX Championship, capping off the season with Rookie of the Year honors in that series as well.
Although Roczen started the 2015 season in similar fashion by once again winning the Anaheim opener, the remainder of the stadium series was a rollercoaster for the German. He notched one more AMA Supercross victory before being sidelined with an injury for the latter part of the series. Roczen closed out the 2015 season by finishing second overall in AMA Motocross and winning the Monster Energy Cup.
2016 saw Roczen finish runner-up in AMA Supercross, tallying five victories along the way, but it was outdoors where he really shined, dominating the AMA Motocross field by topping 20 of 24 motos in the 12-round series to land his second 450MX crown. Last year, Roczen joined Team Honda HRC and dominated the opening two rounds of the AMA Supercross series before a horrific crash at Anaheim 2 ended his season.
2018 marks his highly anticipated return to racing and he has the drive and confidence to propel him back to the top of the podium.
Career Information
| | |
| --- | --- |
| Date of Birth | April 29, 1994 |
| Birthplace | Mattstedt, Germany |
| Residence | Clermont, FL |
| Height | 5'11" |
| Weight | 160 lbs. |
| Racing Number | 94 |
| Motorcycle | Honda CRF450R |
Rider Statistics
| | |
| --- | --- |
| 2007 | Junior World Champion 85cc |
| 2009 | German ADAC MX Masters Champion |
| 2010 | German ADAC MX Masters Champion |
| 2011 | MX2 World Champion |
| 2012 | Member of Motocross of Nations-winning Team Germany |
| 2013 | AMA Supercross 250SX West Champion |
| 2014 | AMA Supercross Rookie of the Year |
| 2014 | AMA Motocross 450MX Champion |
| 2014 | AMA Motocross 450MX Rookie of the Year |
| 2015 | Monster Energy Cup Winner |
| 2016 | AMA Motocross 450MX Champion |